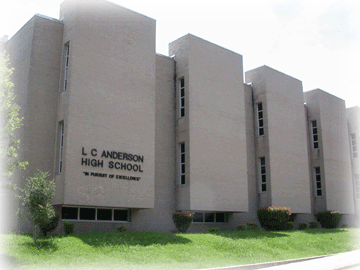 For the latest Anderson News please visit our Message Board.
General Information for 2003-2004
Website for ALL of Mr. Harris' Classes
English Department Website
Counseling Center/Registrar Information
Project ADVANCE College News
Scholarship Information Updated 1/20/04
Faculty & Staff Listings International Baccalaureate (IB)

Where did the student activites go?
Those links can now be found in the Student Lounge (see link at the top of the page!)
PTSA Board Safe Homes Booster Club Presidents
PTSA Membership Form As a PDF, just print it, fill it in, and send it in!

Navigating andersonptsa.com Introduction to our school
Clubs, Sports, and Elective Activities
Webmaster Contact

Anderson High School AISD web site International Baccalaureate Organization

Navigating andersonptsa.com
Welcome to our site. To help you get around, click on the buttons at the top of your screen. You are currently on the "Introduction" page, which is our home page.
The button marked "Calendar" will take you to a school-wide calendar of events.
Next comes our "Message Board". If you have any news to share with the Anderson Community – this is the place to post it. You can ask questions, cheer on the Fighting Trojans or just let us know how you're doing! Booster Clubs – use this as publicity for your group!
"Alumni" is a service provided to past graduates. This can also be a resource for students looking into colleges. Find a recent graduate attending the college you're interested in and drop him/her a line.
"Student Lounge" is the home page for student activities. Here you will find links to sports, clubs, and student organizations like the Band, the Belles and the Cheerleaders.
"Links" will guide you to educational links separated into categories: College Information, Reference, Language Arts, Mathematics, News Sources, Science, and Social Studies.

Introduction to our school
The PTSA is an active group of parents, teachers, and students who support Anderson through its programs and volunteer efforts. In the past, donations collected by the PTSA have been used for technology, teacher classroom needs, sports equipment, student scholarships, library equipment and this website. Membership in the PTSA is strongly urged for parents who want to be actively involved with their student's high school years. Join us, get involved, make a difference!
Anderson High School is located in a picturesque section of hills in the northwest area of Austin, Texas. Our staff has a strong commitment to educational excellence and we take great pride in our scholastic accomplishments. Our address is 8403 Mesa Drive, Austin, TX 78759. Main phone number: (512)414-2538, fax: (512)338-1293.
Anderson High School prides itself on serving the educational needs of all students with a vast array of instructional arrangements. In order to further strengthen all academic programs, Anderson High School is affiliated with the International Baccalaureate (IB) program. For more specific information on Anderson High School please visit the school's web site at Anderson High School – "The International High School".

Clubs, Sports, and Elective Activities
(Course credit is given to the electives)For more information, please visit Our Clubs in the Student Lounge.
Club Organizations
Art Portfolio Club
Astronomy Club
Computer Club
DELTA
Distributive Education Club (DECA)
Fellowship of Christian Athletes
Forensics Club
Future Business Leaders of America
Future Teachers of America
French Club
German Club
International Thespian Society
Jewish Heritage Club
Junior Statesmen of America
Key Club
Leadership Council
Literary Arts Magazine
Little Theater Company
Live Poets Society
Mu Alpha Theta (Math Club)
National Honor Society
Physics Club
River Watch
Spanish Club
Spanish Honor Society
Special Olympics
Students Against Destructive Decisions (S.A.D.D.)
Texas Alliance for Minorities in Engineering
Trojan Art Club
University Interscholastic League
Elective Activities
Art
Band
Cheerleaders
Choir
Color Guard
The Edition-student newspaper
Orchestra
Peer Assistance League (PAL)
Photojournalism
Speech/Debate-Forensic Club
Theatre Arts
Trojan Belles Drill Team
Yearbook-Afterthought
University Interscholastic League Sports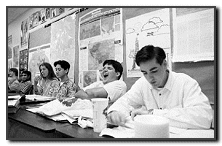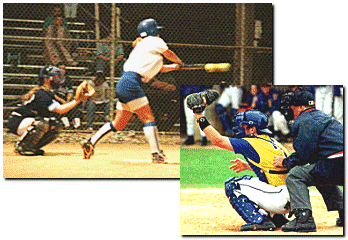 Athletic Teams at Anderson
Baseball-boys
Basketball-boys and girls
Cross Country-boys and girls
Football-boys
Golf-boys and girls
Lacrosse-boys and girls
Soccer-boys and girls
Softball-girls
Swimming-boys and girls
Tennis-boys and girls
Track-boys and girls
Volleyball-girls
Wrestling-boys and girls

Anderson PTSA Officers for 2003-2004
President
Bonnie Heidebrecht
795-8645
1st Vice-President
Bonnie Walker
458-4687
2nd Vice-President
Lisa Loflin
343-6403
3rd Vice-President
Sheryl Brown
349-2849
Margie Burciaga
345-3058
Secretary
Allison Tillotson
414-7912
Treasurer
Jan Riepen
346-5640
Historian
Parliamentarian
Pat McElroy
502-9245
CAC Reps.
Marsha Creatchman
502-9442
Bonnie Heidebrecht
795-8645
ACPTA Rep.
Susan Bright
346-5476
Past President
Debbie Noack
343-6486

Anderson Booster Club Presidents for 2003-2004
Athletic Foundation
Band
Lonnie Dickey
346-6984
Baseball
Mark Price
794-2969
Basketball – Boys
Doug Bohne
345-9450
Basketball – Girls
Mike Sparks
338-0813
Belles
Le Ann Artis
795-9132
Sharon Miller
346-0567
Cheerleading
Sheri Gallo
343-0990
D'Ann Laskowski
502-9674
Choir
Yolanda Montoya
349-9959
Cross Country
Football
Dave Soenen
257-8662
Golf
Tom & Diane King
458-1497
Lacrosse
Maggie & Bill Taylor
451-8382
Orchestra
Elayne Cook
345-9182
Soccer – Boys
Soccer – Girls
Claudia Goldman
338-4626
Paula Stuart
794-8718
Softball
Tim Boaz
873-9093
Swimming
Mary Fellows
346-5452
Tennis
Cindy Marks
345-1577
Theatre
Lynne Gellman
345-1566
Sonceria Williams
346-9409
Volleyball
Eleanor Amaro
372-8797
Wrestling
Juan Portillo
345-2394